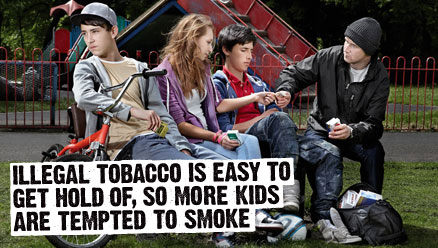 Why are more kids getting hooked?
Illegal tobacco is easy to get hold of, so more kids are tempted to smoke.
Dealers see underage smokers as easy targets. In fact, 1 in 4 young smokers (14-15 years old) regularly gets offered illegal tobacco, which is much more often than adults. This increases the chances of them getting hooked on smoking and puts their health at risk.
How illegal traders help kids get hold of cigarettes.
Illegal tobacco is usually sold for about half the price of legal cigarettes, making smoking far more affordable for children.
As it gets harder for under-18s to buy cigarettes and tobacco from genuine traders, other sources such as street sellers and fag houses are providing kids with an alternative option.
Traders will often sell cigarettes in 'singles' (one cigarette at a time), making it even easier for kids to afford them.